THE NUMBER OF DAYS LEFT BEFORE THE CLASS STARTS. THE CLASS STARTS ON SEPTEMBER 27
On Wednesday evenings I am teaching a class that I call "The Power of Small." This program helps you 'stay on path' so that you can live the life you want and make a difference in the world. 
My name is Rebecca Kochenderfer and I am the creator of Journaling.com.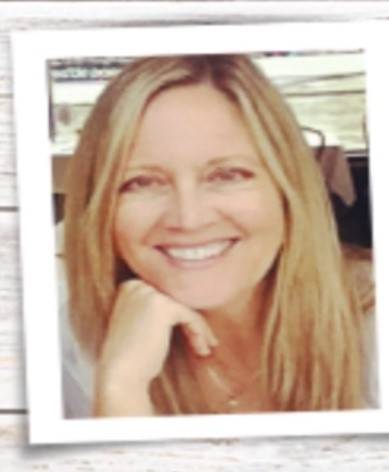 For 10 years my mantra was, "May I live my life with ease and flow."
There was only one thing wrong with this mantra — I didn't attempt anything difficult. Or, even worse, I would quit things if they became confusing or hard.
I began to not trust myself.
If you've ever experienced this, then chances are you can relate.
Then I remembered that old joke…
Q: How do you eat an elephant?
A: One bite at a time.
The 'Power of Small' was born.
It's easy to overlook the power of small, consistent efforts. We're told that significant change requires big actions. But that's not true. Small, consistent touches create a ripple effect that gets you where you want to go.
What would you do if you knew you couldn't fail?
Do you have a goal that feels exciting on the one hand, but also heavy and scary? That's natural. Usually, when we have a goal, we also experience fear. Your brain doesn't like change and it will try to stop you in order to protect you. But fears fade as you stay on path. Your brain becomes more and more comfortable with the changes you are making.
Here's what happens when you use the power of small:  
Small is so easy to do that no matter how busy or tired you are, you do a little something each day. You feel powerful. Your confidence soars.
You honor your dreams. When your heart sends you an idea, you listen, because nothing feels impossible. You think, "If I can do this, what else can I do?"
You figure things out. Some days you're not sure what to do and you want to quit. But you don't. You practice "learning by doing" and clarity comes.
You might think you don't need a follow-through program, and that's what I thought too. But it's the follow-through that is the deal-breaker for 99.9% of people. This beautiful Power of Small program solves that problem. You stay on path because you are with a group of people who are also committed to staying on path. It's a powerful and comforting thing.
Is there a dream in your heart? 
Think Path, Not Goals
I'm a big believer in thinking in terms of 'Path,' rather than goals.
When I used to set goals for myself, I felt time pressure, fear of failure, and I'd inevitably end up quitting because I couldn't live up to my own expectations.
BUT… when I began to think in terms of Path, rather than goal, I gave myself space to explore, learn, and change along the way.
Here's how it works:
Let's say you have a dream — there's something you want to do, to be, or to have. That's great!
Dreams bring life force to you. They make you come alive. They give your life direction.
In the old days, you would set a specific goal for yourself, with a specific due date. There's nothing wrong with this, but the non-completion rate is very high for goals and it can be a high-pressure, high-stress experience.
But when you think in terms of a Path to take, rather than a finish line to cross, you allow the journey to transform you. You let your dream take you on a beautiful journey.
I've gotten really good at traveling big paths and completing big goals and I would love to help you with your journey.
My first big dream was…
Homeschool.com.
I wanted so much to quit my job and become an entrepreneur so that I could work from home with my young children. But I was scared. I knew nothing about creating or running a business, and financially, we couldn't afford for me to fail. Could the 'Power of Small' work for something like this? If I "touched" the project a little each day, could I build a successful business? It did work! I just kept touching the business a little each day and before I knew it, Homeschool.com had become the #1 homeschooling site in the world. It even won an award from Forbes Magazine.
But you know what? It wasn't the outer results that built my confidence, it was the little touches I did each day that made me believe in myself.
I also really wanted to write books. 
I'd always wanted to write a book and I would promise myself that I would write an hour every day, but then something would happen — one of the kids would get sick or I'd get busy — and my dream to be an author would fade away. Could the 'Power of Small' work for book writing? If I just touched the book project a little each day, would I be able to finally finish a whole book? I decided to give it a try. Some days I only wrote for 10 minutes, but it felt great. Each time I touched my dream it released endorphins. I would gently tell myself, "Just do something. It doesn't matter how big. Just touch the project." It worked! That book, plus four more, were written, of them created using the 'Power of Small.'
Everything is possible when you "dream big, think small."
"Rebecca Kochenderfer has been a business associate, accountability buddy, and personal friend of mine for many years. Her parents died when she was a young child, and two of her sisters committed suicide. Yet, through all of the heartache she has maintained a joie de vivre that has enabled her to have a wonderful marriage, be a terrific mom to her three children, and be a successful entrepreneur. She created the life she wanted for herself and her family not just by saying positive affirmations – but by living them."
Diane Flynn Keith
Looking at the signups, it looks like people will be using the Power of Small for some big dreams:  
J… was recently laid off from his job. Instead of just automatically trying to get a new J.O.B., he's using the time in this course to see if he can earn the money he needs for his family, using his music skills.
S… was also laid off. She's using the class to see if she can pivot into a tech career, something she has been wanting to do for a long time.
D… loves his work and wants to do more of it. He's using this program to help him figure out how he can go deeper into his field and support himself financially.
T… is an artist. She would love to move to Southern California and hasn't been able to figure out how to do that. She's using the class to figure out how she can move to a place that she loves.
T…will need to retire soon but she's going to need extra money in order to live. Her project in the class is to figure out how she can earn the money she needs, doing something that she would enjoy and that would fill her with purpose.
I have such a wonderful program organized for us.
Sept 27: Dare to Dream. Are you clear what your dream is, or do you need help clarifying it? In tonight's class, I lead you through an exercise that connects your dream to your Higher Self and detaches it from Ego Mind. This live zoom session is a beautiful opportunity for you to get some personal guidance to help you make your dream a reality. 
Oct 4: The Corridor Principle = Think Path, Not Goal. The corridor principle states that when you start moving down the hallway of your dreams, doors of opportunity appear. Tonight, while exploring your possible paths, your right path may come to you in a moment of flash and clarity. After this, you will choose the small action that you will do each day — the action that requires 20 percent effort but creates 80 percent growth.
Oct 11: Re-Zoom. You are on a learning journey. The small action that you do each day is no small thing. Sometimes it will be the hardest thing that you do that day. And every time you take that action, no matter how small, you receive a hit of endorphins and your confidence and belief in yourself soars. But life happens and tonight, I teach you a re-zooming technique to get you back on path as quickly as possible.
Oct 18: Mindchatter. My doctoral dissertation is on Mindchatter so I am majorly tuned into this topic. In tonight's session I will teach you a technique called "Notice, Name, Relax, Release." NNRR is a powerful way to help you manage the emotions that come up as you stretch and grow. This may be one of your favorite things you take with you after the end of this class because it brings you so much peace, clarity, and confident presence.
Oct 25: The 5 Most Common Self-Concept Blocks. We'll use humor and a light touch this evening as I lead you through a process to help you discover whether or not any of the common self-concept blocks are showing up and affecting your journey. Understanding self-concept blocks is one of the most freeing things you can do for yourself.
Nov 1: Outer Results. We've been taught not to brag or to talk about ourselves. But it's an important gratitude practice to acknowledge the gifts that you have been experiencing. Tonight, if you are willing, you will share your "wins," in a spirit of love and gratitude. It is a beautiful experience to do this in a group. It is so inspiring.
Nov 8: The Inner Journey. In addition to celebrating your tangible wins, it's also important to acknowledge your inner journey. What new inner qualities are you noticing in yourself — Resilience, Confidence, Creativity? Tonight you'll set your intention for how you are going to show up on your continued journey. Setting your intention is one of the most empowering things you can do. And it's great to do this exercise in a group. You'll get so much out of hearing other people's intentions.
Nov 15: You did it! You stayed the path for 8 incredible weeks. Something you had perhaps not been able to do before. We will finish our time together with a "Crossing the Line" meditation which may show you your future steps. You have just done something that 99% of people cannot do — you stayed the path. This may be the end of our program, but the self-empowerment you gained and the friends you made, will continue.
What do you think? Are you excited? Is this just what you've been needing? I would love to have you in the class. If you have any questions, feel free to reach out to me at: Rebecca@Journaling.com.
Journalers receive a 50% discount, so be sure to enter the discount code: Journaling.com