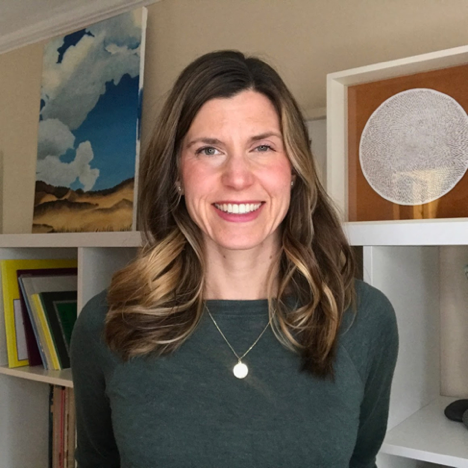 Amy Maricle
Founder of Mindful Art Studio
Even if you are more at ease with pen and paper than paintbrushes and canvas, our conversation with artist Amy Maricle will inspire you to wander from your comfort zone to discover the power of art journaling.
Amy is an artist, art therapist, and founder of Mindful Art Studio (http://mindfulartstudio.com). Her writing and art have been featured in many online and print publications including The New York Times.com, The Washington Post.com, Psych Central.com, and Art Journaling Magazine. She'll be one of the teachers at The Gathering of the Creatives with Julia Cameron in Santa Fe in September 2019.
Whether art journaling is new to you or not, we are confident you'll glean fresh ideas from Amy to invigorate your journaling practice. To get Amy's five art journaling tips, listen to our interview or read the highlights of our conversation below.
---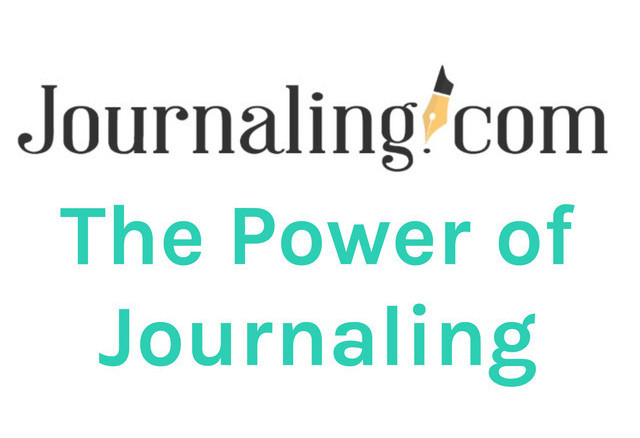 If you'd like to listen to the full audio interview, look for The Power of Journaling wherever you find your podcasts!
---
Art Journaling Is For Everyone
Based on years of experience teaching art journaling, Amy is confident anyone can learn to use her techniques. She explains, "Most students I work with start with the belief they lack skills enough to make art.†Amy reminds us that the primary goal of art journaling is to develop a sense of mindfulness and to tune into process over product.
An art journal is a space that will take whatever you trust it with.

Amy Maricle
Art Journaling Is an Effective Therapeutic Technique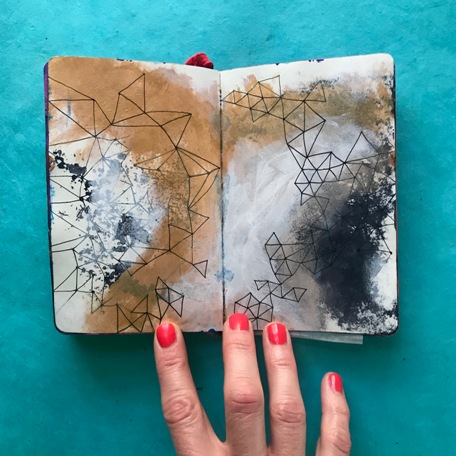 As a former art therapist, Amy is keenly aware of the benefits of art journaling and she outlines them for us.
Art journaling helps us access thoughts by letting us relax and tune into our senses. We feel the paper and pen in our hands and hear the birdsong chirping outside the window.
Repetition of art techniques like pattern studies is soothing and eases tension.
Art journaling is an outlet that helps us express strong feelings and gain new perspective.
Expressive art helps quiet thinking and makes space for imagination.
Tips from Amy
Amy came to our interview brimming with ideas to help us maximize our art journaling experience. She is a generous teacher full of inspiring ideas.
Tip 1: Permission to Play
Start with materials you already have on hand, she suggests. Engage with watercolors, pens, paper and a journal; create as if you are your three-year-old self again. Loosen up, scribble, and splatter your paint. Play!
Tip 2: Work in Stages
Begin with color. Apply layers of any kind of paint you choose. Cover your color with words, patterns, and drawings. Take a break. Return later and see what's needed next.
Tip 3: Draw What You See
Let your work be wonky, and don't worry about accuracy. Open your mind to different ways of drawing and expressing. Ask your inner editor to sit back for a bit. They can come back when you are ready to critique. For now, let expressiveness flow.
Tip 4: Write On the Same Pages as Your Drawings
Imagine, draw, then freewrite about whatever comes to the surface for you. Connecting analytical and artistic parts of our brain liberates our subconscious and lets novel insights surface.
Tip 5: Quality Tools Matter
Treat yourself to the best materials. If you like the idea of working in layers, you'll want a high-quality watercolor journal that will absorb all of the emotions you paint. Amy notes that although Moleskin journals are more expensive, they will stand up to just about anything you deliver
.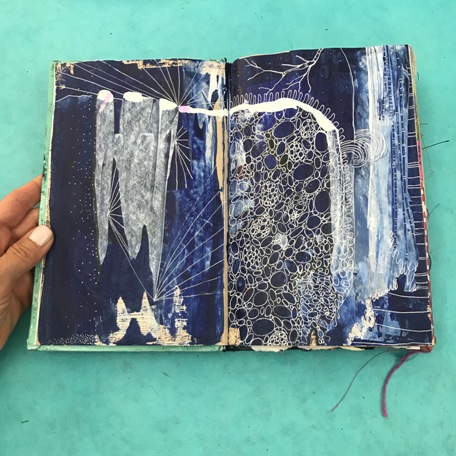 Your Action Plan
Learn more about Amy's work. Visit her online at Mindful Art Studio (http://mindfulartstudio.com), on Instagram, and Facebook .
Join Amy when she presents at The Gathering of the Creatives, Santa Fe, NM, September 20th – 22nd, 2019. Led by Julia Cameron, author of the bestselling book The Artist's Way, this weekend event is all about exercising your creativity, and understanding how a regular creative practice can foster happiness and transformation in your life.
Listen to my interview with Amy on Journaling.com's podcast, The Power of Journaling.
Gift yourself a journal that you'll look forward to returning to.
If Amy's words inspire you to give art journaling a try, we'd love to see your creations. Follow us on Facebook, and send photos of your creations.