Caylee Grey
My conversation with artist and journaler Caylee Grey is a reminder that the best way to journal is to use whichever tools work best for you. Some of us are most at ease with words. Others feel best with a paintbrush in hand. Some of us enjoy using both. There are no rules. Your journal won't mind!
Caylee is the host of a kind and enthusiastic art journaling community on the internet called Get Messy. She believes in the habit of art, dancing naked in perfectionism's face, and the magic of connection. She squeezes her own creative time in during her tiny human's naps, and helps other artists find the time in their own busy lives to create.
Listen to our interview, or read below to see highlights from our talk, and discover why the art journaling community refers to Caylee as the "Fairy Art Mother."
---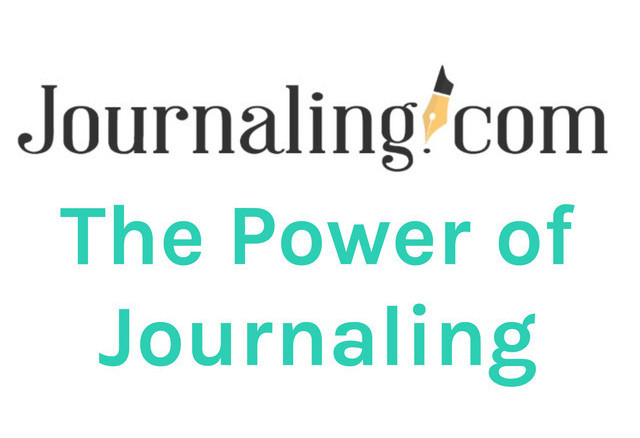 If you'd like to listen to the full audio interview, look for The Power of Journaling wherever you find your podcasts!
---
Pair Your Art with Your Writing
Caylee is an inspired journaler. The 100 completed journals she's created so far are proof of this! Art and writing have become so intertwined for her, she no longer bothers to separate the two.
"I've kept journals forever. I tried to do a word-only journal once thinking that was how to make a "real" journal. Very quickly though, I started doodling in the margin and pasting things inside, and I finally gave up on keeping a words-only journal."
Why Art Journaling Works
Caylee is a dynamic, energized speaker, and her enthusiasm is contagious when she talks about the benefits of art journaling.
Pushing paint around on a page helps express emotions that words cannot always access. Caylee recalls a challenging time in her own life when the simple act of applying black paint on her journal's pages got to the heart of an issue words couldn't touch.
It's not complicated. Caylee reminds us art is in everything and we can use it to tell our story. Just pasting a receipt or putting a business card on the pages of a journal she explains, provide abstract ideas with meaning and form.
Everything is art. Even a shopping list in your own handwriting is a form of self-expression.
Art journaling is calming. "It's like meditation," Caylee notes, "but requires less discipline!"
Get Messy!
The name of Caylee's dynamic online art community, Get Messy, is personal. "I'm a perfectionist. Getting messy makes me uncomfortable. Coming up with this name was like a challenge to myself to ignore perfectionism, and to let go and just make a mess!"
Caylee works tirelessly to empower the artists in her Get Messy community to let go of perfectionism.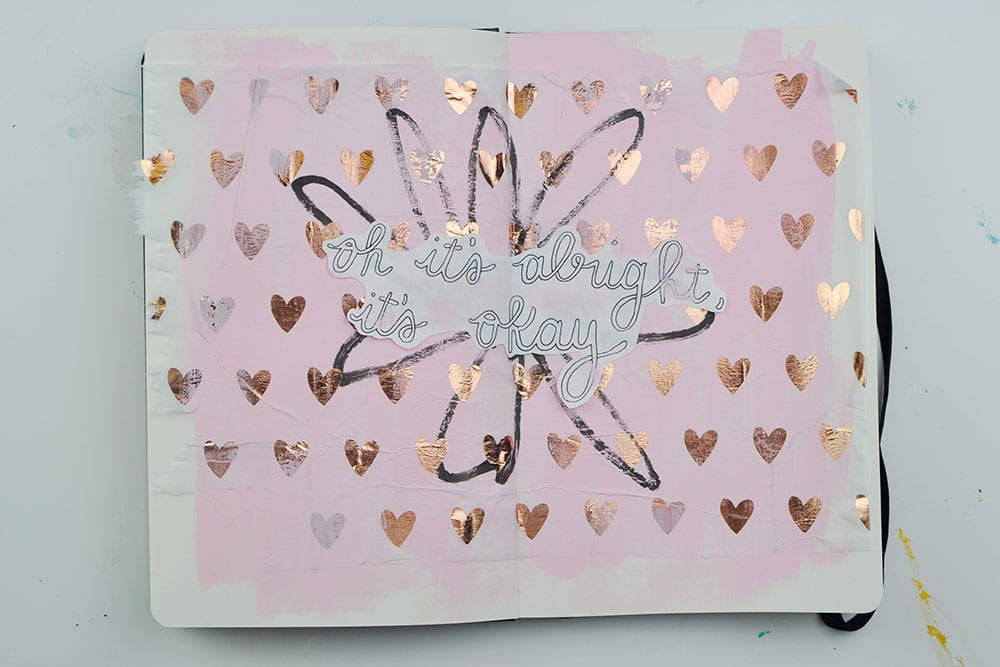 It's the Process Not the Product
Caylee gives a shout out to one of Journaling.com's favorite artists, Amy Maricle, who speaks to the value of "the process over the product." In her own creative work, Caylee's noticed that if the focus is on "messing up" in a positive sense, the inner critic is silenced which leads to extraordinary creative outcomes.
This idea has ramifications for other parts of our lives. Caylee connects the dots and explains that when we let go of perfectionism in our art, we eliminate this tendency in other facets of our lives as well.
Establish a Routine to Maximize Creative Moments
Caylee describes herself as routine driven. She believes and commits to doing something creative every day. Whether that's drawing a line in her journal or spending four hours on a page, she prioritizes these moments. "Showing up every day is where the magic happens. It's about waiting for the magic and being prepared for it when it comes."


The notion that good art comes from bursts of electric inspiration is one Caylee has moved past. Instead, she's discovered, it's through small repetitive practices every day that substantive creative goals are achieved.


"I have a rule that I can go two days without creating something. Otherwise, I make something, even if I don't feel like it. I know that even if I'm tired, even if I create rubbish, at least I've shown up, and I can come back again and try something different. Showing up and a little risk leads to magic."
Tips for Travel Journaling
"When you take time to journal what you're feeling and seeing around you, there is something magical about it." Caylee regularly talks travel journaling with her followers, and she considers this medium the perfect tool for capturing the essence of a trip.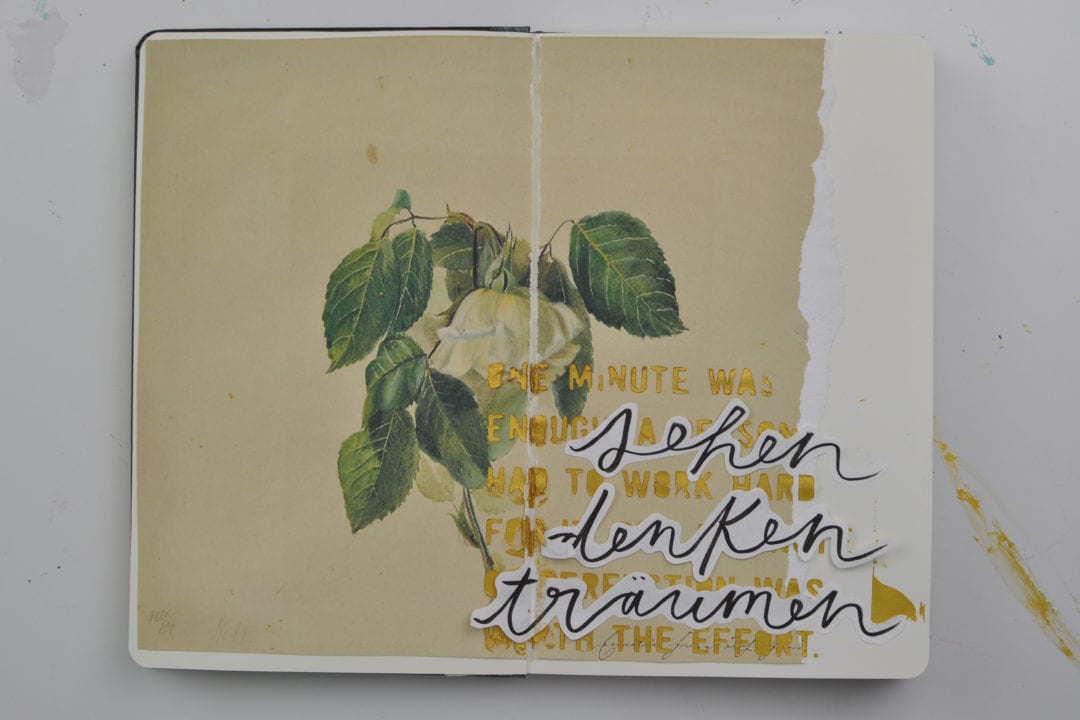 There is something different about journaling when compared with photography, Caylee notes, and she's found herself lately taking trips with the sole purpose of journaling. "My travel journals are my favorites. Photos are how everyone sees the world. My journal reflects the ways that I see it."
Journaling Tips to Take On Your Travels
Mix words and images any way you choose.


Collect papers, ticket stubs, and other finds you spot, and arrange them in an appealing way.


Take the picture no one else would think of and tuck it inside of your journal. If you visit the Eifel Tower, for instance, take a close-up shot. Capture a small detail others might overlook.


Look for and use materials that evoke memories of textures, sights, and sounds from the place you've visited.


Write about the small details. The menu at the café you adored. The conversations that buzzed around you. These memories are rich and will transport you back to special places for many years to come.
Your Action Plan
Listen to my conversation with Caylee.


Connect with Caylee. Visit her online at the Get Messy Art Website and at Get Messy on Instagram.


Connect with a like-minded arts community. Join https://getmessyart.com/.


Start collecting and creating elements that reflect your life. These might be your own words, the words of others, drawings, or miscellaneous items you affix to the page.
Caylee's favorite supplies are the moleskin journals she keeps on hand. But she recommends you grab whatever is most convenient in your house at this moment. Choose the resource that will get you started journaling today!
Establish a regular creative routine that is free of judgement.
Let go of perfectionism. Get messy!


If you've enjoyed this interview, check out our conversation with Amy Maricle where we discuss five fabulous tips for art journaling.