Meet Carolyn Koehnline!
I offer practical strategies and creative processes you can use for the rest of your life. As a coach and licensed therapist for 27 years, I've learned the power of compassionate witnessing and gentle guidance. As a certified journal therapist, I also share writing processes for healing and change.
Carolyn Koehnline is a Certified Journal Therapist, licensed psychotherapist, personal coach, and the creator of Gentle Approach Coaching. She has specialized for twenty-seven years in supporting people in clearing clutter from their homes, heads, hearts, and schedules to make room for what matters.
Is it possible to address clutter effectively and be kind to yourself at the same time? Absolutely. With the help of your journal.
About the Course
After traveling through this four-module, self-paced course, you can expect:
a clearer sense of how to discern what is clutter and what is a treasure in your home and your life;
an understanding of your best strategies for addressing clutter inside and out;
more clarity, inspiration, self-compassion and confidence in your ability to make change;
an increased ability to effectively navigate shame, guilt, hopeless, and confusion when they arise;
more kindness, balance, and harmony in your relationship with your home and belongings;
a toolbox of eighteen adaptable writing processes you can return to, as needed, to clear confusion, clarify your mission, identify helpful supports, access self-compassion and encouragement, plan and track on your projects, sustain your momentum, and so much more.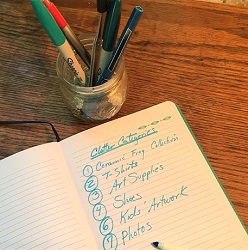 This self-paced course guides your through four modules of lessons and takes about ninety minutes of your time per week for four weeks. But, of course, the pacing is up to you. When you sign up, you'll have immediate and unlimited access to the full course on a beautiful platform. Written and recorded lessons guide you through the process and the discussion boxes provide an option for sharing with and learning from others along the way. Register today.
Carolyn is also the author of Clearing Clutter as a Sacred Act and through her private coaching practice, she offers self-paced solo courses, group online classes, and she shares talks and workshops in a wide variety of settings.
To see her other offerings, visit www.GentleApproachCoaching.com.
Free copy of "Clearing Clutter with Journal Writing" to Journaling.com members
Available at GentleApproachCoaching.com
Mention that you are a member of Journaling.com
Get Your Free Copy